Greetings to all! In the proud tradition of Demicons past we will once again be having a Friday night Hall Costume contest. As always, simply don your finery and strut the halls, and you may be our next lucky "Best in Hall" winner! We will be following the same rules and procedures as last year, so you don't need to stand before a judge to be considered an entrant. And again, as with last year, our wandering judges will be scouting the halls to hand out special hall awards!
Here's the scoop: To be considered a Hall Costume entrant and eligible for the major awards, you must have your photo take by our photographer between 9 PM and 10:30 PM Friday night. There, you will receive your Ribbon of Participation from his assistant. Only those with Ribbons of Participation are eligible for the special hall awards, which include ribbons for those who best remain in character, or which anime we like best, or super workmanship (among others). The major awards, presented during Masquerade on Saturday, include prizes for the following categories: BEST SCI-FI/FANTASY, BEST ORIGINAL, BEST STEAMPUNK, BEST CHILD, and of course BEST in HALL. Something special (unearthed from our silver mine) will be awarded to each Hall Costume winner. Photos of these special items are posted below! (If you'd like, you can go to our website www.demicon.org, and check the Demicon archives to see what the lucky winners won previously.)
SPECIAL HAT CONTEST

"HI-HAT, SILVER!  AWAY!"
Greetings to all!  As with the last several years, the Demicon Hall Costume Contest will once more host a separate competition for the most creative hat (within given guidelines.)
In keeping with the fact that this year marks our 25th anniversary, this year's Hat Contest Theme is "all things pertaining to silver!"  ANYTHING pertaining to silver – placed on a hat!
To enter, simply find our photographer, Jason White (his location will be posted) and get your picture taken.  Your hat DOES NOT need to be part of an entire costume, but can stand alone.
The winner will be announced at Masquerade Half-Time, and the lucky winner will receive the large, round goblet shown in the first image below! 
Thanks for entering, and have fun!
"Hi-Hat, Silver!  Away!"
 HALL COSTUME and BEST HAT AWARDS: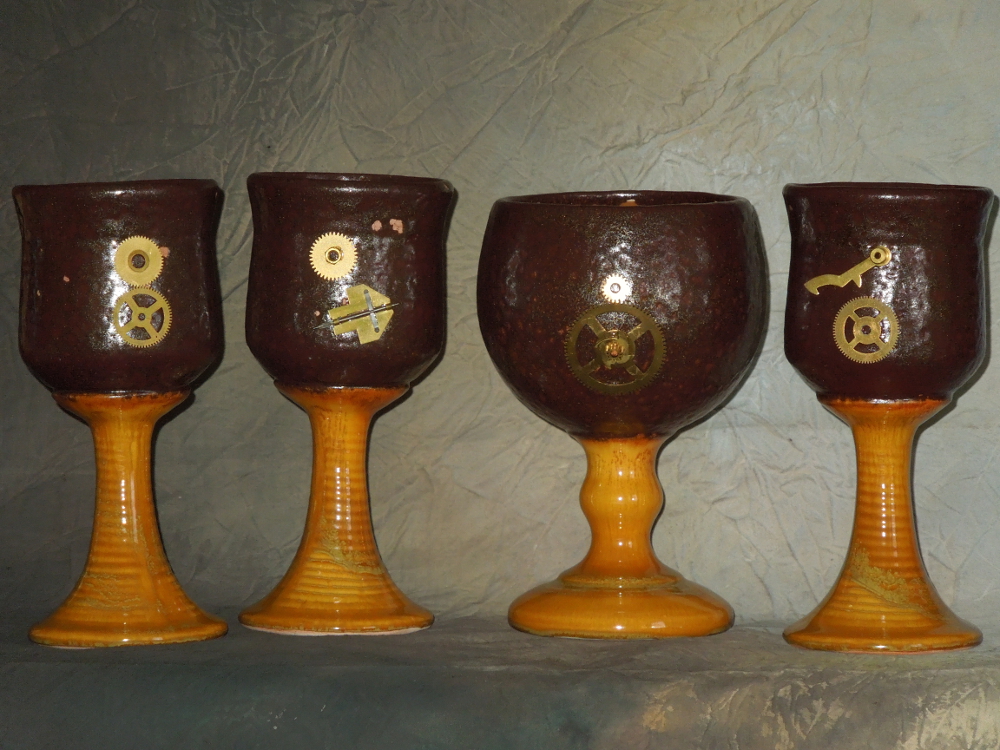 BEST IN HALL:  "Heigh-ho Silver, Celebrate Away!"
(Best in Hall not necessarily to be steampunk, by the way!)