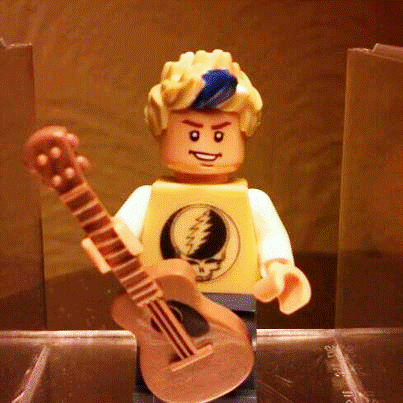 Lojo Russo has been orbiting the Con biospheres since her first days in the awesomely classic jam-rock quintet known as 'Cats Laughing.'  The original members of 'Cats Laughing,' Emma Bull, Steven Brust and Adam Stemple, are best known for their wonderfully crafted SF/F novels.  The work of the fifth member, Bill Colsher, can be found behind the red curtain at finer adult bookstores under the author-pseudonym 'Anonymous.'  Russo retains the dubious distinction of being the only non-published author of that group.
From those humble beginnings, Lojo Russo has continued to provide soulful, fanciful and farcical music to her enduring fans.  Her novelty album, 'Sweet Tooth,' contains the DemiCon-inspired hit single, 'Blame It On the Jello.'  She enjoys long walks on the beach, the smell of Hai Karate and the way Band-Aid packages spark when you open them.
Lojo Russo is honored to be this year's Artist Guest of Honor, and would like to assure the voting members of this esteemed Con committee that the cases of Courvoisier are still held up in customs, but should arrive any day now.