Fans and Costumers Extraordinaire
Kevin Roche & Andrew Trembley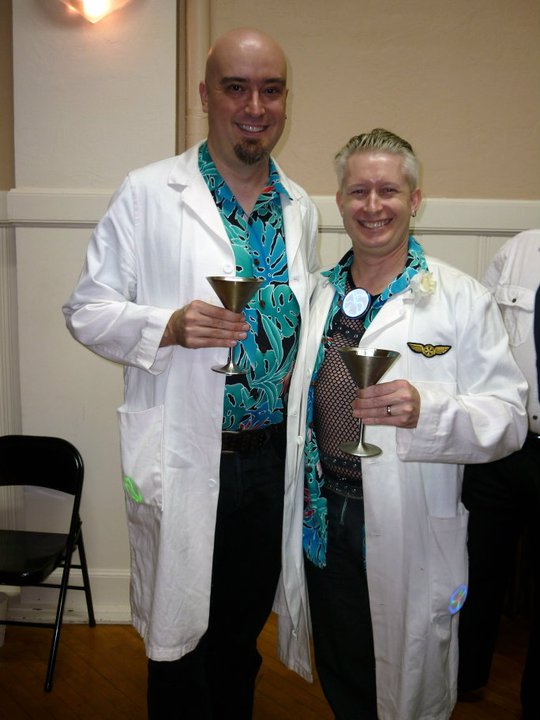 Where to start… These two gentlemen are the epitome of fandom.
They know costuming and are very willing to share that knowledge.
They are involved in many aspects of fandom, having chaired several conventions and have been on staff for such conventions as Costume Con (which they also chaired one year), Gallifrey One, BayCon, Westercon, and WorldCons.
They have been Masquerade Directors, Costuming Programming participants and multi-award winning Master Class Costumers.
Kevin was honored in 2007 by the International Costumers Guild with receipt of the Lifetime Achievement Award.  He also is the creator of Thinbot, a robotic bartender that won a gold medal at the Robogames in 2011.
Andy has been described as a Professional IT

geek and amateur event-planning geek, a freak, reader, essayist, costumer, critic, media-junkie, biker, pervert, party-queen, troublemaker, FAN.  Andy joined us for several early DemiCon's, when he lived in the Midwest.
They know how to throw a good party and are connoisseurs of fine distilled spirits.  When they chaired Costume Con in 2008, one of the scheduled events outside the con was a tour of some of the local distilleries.  Whatever you do, don't drink the Pink Expanding Cosmopolitan, they are very addicting and sneak up on a person.
When they aren't busy being involved in Fandom, Andy works as a Systems Architect at San Jose State University.  Kevin is an Advisory Engineer/Scientist, Magnetoelectronics Group IBM Research—Almaden.  If you get the chance, spend some time visiting with these two interesting and entertaining men.