The Formal Masquerade is scheduled to take place on Saturday. April 30, 2011 at 8:00 p.m.
Contestants are required to attend the Masquerade meeting at 12:30 p.m. on Saturday and should bring a completed entry form and any music they plan to use. The preferred format for music is compact disc.
Contestants are required to take a rehearsal walk across the DemiCon stage. For the convenience of all, rehearsal walks will be scheduled by sign up. All props, music and footwear are to be brought to the rehearsal walk.
All contestants will be required to arrive in the green room prior to the beginning of the Masquerade. Adult contestants must arrive in the green room no later than 7:00 p.m. Contestants age 13 and under should arrive in the Green Room by 7:30 p.m. unless otherwise instructed.
There are two categories for competition and one for display.

Apprentice - costume designed and executed primarily by someone under 13 years of age on the event date of April 30, 2011.
Artisan - costume designed and executed by someone 13 years of age or above on the event date of April 30, 2011.
Exhibition - costume worn for display / non-competitive purposes.

The Masquerade Coordinator will be available at posted times during the convention to answer questions and assist with forms.
Any and all prizes, ribbons and awards are at the sole discretion of the Judges.
PREVIOUS DEMICON MASQUERADE PHOTOS
Masquerade and Hall Costume photos from several previous DemiCons are available for purchase at the following website: www.wookphoto.com.
Formal Masquerade contestants will be photographed in the Green Room on Saturday night. The photos will then be available a few weeks after the convention via an online gallery. More info will be available at DemiCon.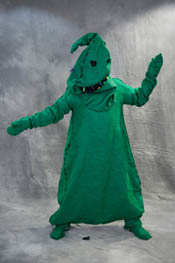 FORMAL MASQUERADE - Forms and Rules
This is a structured costume contest. There are entry forms to fill out as well as a meeting and rehearsal walk to attend. There are rules and guidelines. Contestants get to strut their stuff on our generous stage in front of a live audience. Contestants can include theatrical sound and lighting to enhance their presentations.
Please check out this year's Masquerade rules - printable version
For any questions, clarifications or considerations not addressed by the rules, FAQs or general information please email: masquerade@demicon.org prior to April 28th, 2011.
And why wait? Start asking your questions now!
This form can be electronically entered and e-mailed to the address on the form.