Did you know that every three seconds someone needs blood?
Blood centers across the United States historically have witnessed a decrease in blood donations during the busy spring and summer months as people become more active, have busier schedules, spend more time outdoors and take vacations. While donations decline; however, hospitals see a significant increase in the need for blood. In Iowa, 49 hospitals in 44 counties rely on the Blood Center of Iowa for its sole blood supply. This year alone, the Blood Center needs to collect 101,000 units of blood in order to serve those hospitals and is calling on DemiCon for support!
Scheduling your donation has never been easier! The Blood Center of Iowa has developed an easy-to-use web tool for scheduling appointments for upcoming blood drives. Please be reminded that you may only give blood every 56 days and must be in good general health.
For additional information regarding eligibility on blood donation, visit: the Iowa Blood Center eligibility page.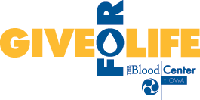 There is no substitute for human blood which is why blood donation is so important in helping to save lives. When you give blood, you give someone another laugh, another hug, another chance. Help make a difference to patients in need of blood throughout Iowa! We promise that the donated blood will benefit local humans and not vampires.
Please follow the instructions below to sign-up and donate blood at DemiCon

Visit: the Iowa Blood Center. (Click above link)

Select "Find a Mobile Drive."

Select "Search by Sponsor Code."

Type: DemiCon

Select the blood drive where you wish to donate by the corresponding date.

Enter your work e-mail address and date of birth.

Select "Login."

Enter your first name and last name, blood type (if known) and work phone number (include area code).

Save your profile.

Schedule a donation.

Continue to blood drive.

Select an available time.

Confirm your appointment.

Log out of the web site.
Donors will receive two e-mail messages generated by the Blood Center of Iowa. One will be to confirm your appointment. The other email will be automatically generated three days before the blood drive to remind you of your scheduled appointment time.
Rescheduling your Appointment
If you need to change or cancel your appointment
Simply return to www.bloodcenterofiowa.org

Select 'Find a Mobile Drive.'

You then select "Appointment History"

Enter your email address and date of birth.
Your original appointment time will then be listed with the opportunity to cancel or change an appointment.

Click on the blood drive date and you will be asked to cancel or reschedule your donation.

Click on "cancel appointment".

You will then have the opportunity to reschedule your appointment if desired.