Greetings, lovers of adventure and excitement! In the proud tradition of Demicons past we will once again be having a Friday night Hall Costume contest. As always, just don your finery and strut the halls, you may be our next lucky "Best in Hall" winner! We will be following the same rules and procedures as last year, so you don't need to stand before a judge to be considered an entrant. And again, as in last year, our wandering judges will be scouting the halls to hand out special hall awards!
Here's the scoop:
To be considered a Hall Costume entrant and eligible for the major awards, you must have your photo taken by our photographer, Wookie. (His hours of operation will be posted in a notice next to Registration, so look for it!) There you will receive your Ribbon of Participation. Only those with Ribbons of Participation are eligible for the special hall awards, which include ribbons for those who best remain in character, or what anime we like best, or super workmanship (among others). The major awards, presented during Masquerade on Saturday, include rosettes for the following: ARTIST'S CHOICE, AUTHOR'S CHOICE, FGOH'S CHOICE, and of course BEST in HALL
In addition to rosettes, something special (snatched at great risk from the Dragon's own hoard) will be awarded to these four lucky participants. Photos of these special goodies will be posted here upon their completion, but you can check the Demicon archives to see what the lucky winners received last year!
OH MY TAIL'S A-DRAGON!
We had so much fun last year with the special Pirate Hat costuming event, we decided to do something similar once again! In keeping with our dragon theme, the special contest this year will be "My Tail's a-Dragon," or, "let's see who can create the coolest dragon's tail!" This tail can be any size and anywhere: as part of a bona fide dragon costume, or just a tail placed… well, put on your thinking hat, and get creative! The judge will be found in the "Dragon's Lair;" directions to the Lair and the time period in which the judge will be present will be included in the notice hanging at Registration. Of course, the winner of this special event will also receive a rosette during Masquerade, and something special as well! But have fun, and GOOD LUCK!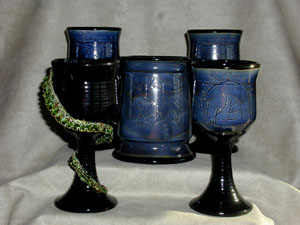 Hall Costume contest awards.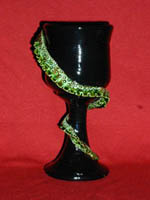 The lucky winner of the
"Oh My Tail's A-Dragon" contest will receive this wonderful hand-sculpted, glazed and kiln-fired ceramic dragon tail goblet. It will safely hold both hot and cold beverages, and was made with food-safe glazes. (Dishwasher safe, but hand washing is preferred.) Good luck to all!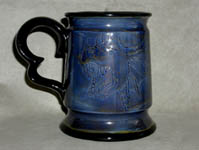 BEST IN HALL -- OOAK etched dragon beer stein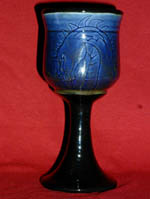 Those costumes chosen as favorites by our Guests of Honor will receive an etched dragon goblet.