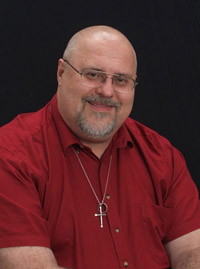 David Weber

Born in Cleveland, Ohio, Weber began writing while in fifth grade. His first published novels grew out of his work as a war game designer for the Task Force game Starfire.
His novels range from epic fantasy (Oath of Swords, The War God's Own) to space opera (Path of the Fury, The Armageddon Inheritance) to alternate history (1632 series with Eric Flint) to military science fiction with in-depth characterization.

A lifetime military history buff, David Weber has carried his interest of history into his fiction. He is said to be interested in most periods of history, with a strong emphasis on the military and diplomatic aspects of it.
He prefers to write about strong characters, developing a character's background story in advance in considerable detail because he wants that degree of comfort level with the character. He has said he writes primarily in the evenings and at night.
Weber has said he makes an effort to accept as many invitations to science fiction conferences and conventions as he can because finds that the opportunities for direct feedback from readers which conventions offer is extremely useful to him. He makes a habit of Tuckerizing people from fandom, particularly in the Honor Harrington books (see e.g. Jordin Kare).