DemiCon the 13th was wonderful
For information on the current DemiCon, please visit www.demicon.org.
Hotel
For 2002, DemiCon returns to the University Park Holiday Inn at 1800 50th St. West Des Moines. Please contact the hotel for room reservations: (515) 223-1800.
From these pages, you can check out the arranged rates as well as maps and directions to the hotel, and maps of the hotel. If you have any difficulties reserving your room, please contact our hotel coordinator.
If, for some reason, you do not wish to stay in the convention hotel, the following hotels are also near the convention:
| | | |
| --- | --- | --- |
| Valley West Inn | 3535 Westown Parkway | (515) 225-2524 |
| Wildwood Lodge | 11431 Forest Ave | (515) 222-9876 |
| Heartland Inn | 11414 Forest Ave | (515) 226-0414 |
| Residence Inn | 11428 Forest Ave | (515) 223-7700 |
| Fairfield Inn | 1600 NW 114th St | (515) 226-1600 |
If you are concerned about attending a horror-themed convention with H. P. Lovecraft as the Ghost of Honor, please refer to the map below: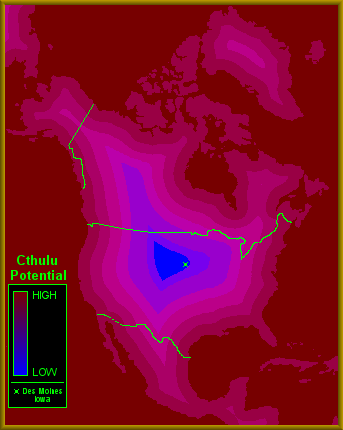 ---
If you would like to be notified when this site is updated, please send us your email address
Copyright 2001 by DMSFS, Ltd. All right reserved
Comments regarding this page should be directed to info@dmsfs.org