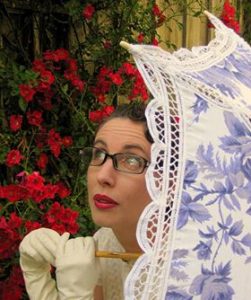 New York Times bestselling author and ex-archaeologist Gail Carriger/G.L. Carriger writes to cope with being raised in obscurity by an expatriate Brit and an incurable curmudgeon. She escaped small town life and inadvertently acquired several degrees in higher learning, a fondness for cephalopods, and a chronic tea habit. She then traveled the historic cities of Europe, subsisting entirely on biscuits secreted in her handbag.
Miss Gail's novels have been published in dozens of languages and have made the New York Times, USA Today, and Locus Bestseller lists multiple times. Her NYT listings include Mass Market, Hardcover, eBook, Combined Print & eBook, Young Adult, Children's Series, and #1 in Manga. She has received the Prix Julia Verlanger, the Elbakin Award, the Steampunk Chronicle's Reader's Choice Award, and a Starburner Award. He books have received starred reviews from Publishers Weekly, Booklist, Kirkus, and Romantic Times.
Her debut novel, Soulless, won the ALA's Alex Award and was nominated for a Compton Crook and Locus Award, and the Prix des Imaginales. It made Audible.com's best list, and was a Publishers Weekly Best Book, IndieBound Notable, Locus Recommended Read, and a Finalist for the 2009 PEARL Award. Gail is still trying to recover from the shock.
Gail's wildly popular steampunk Parasolverse contains multiple series. The Parasol Protectorate features a proper Victorian spinster who has no soul. It has been turned into a graphic novel and optioned for TV. Her YA Finishing School series follows a young lady secretly recruited to an all-girls seminary for spies. Her Delightfully Deadly novellas follow these young ladies grown up. In the Custard Protocol a crack (or possibly cracked) dirigible crew get into trouble around the Empire on behalf of queen, country, and tea. The Supernatural Society novellas follow popular LBGTQ side characters from her Parasolverse as they strike out on their own. And the Claw & Courtship novellas feature werewolves caught up in Georgette Heyer style shenanigans.
As G.L. Carriger, Gail writes the San Andreas Shifter books depicting a whimsical San Francisco full of sexy gay werewolves and smart-mouthed mages. She also has a full cast audio production of her YA sci-fi Crrudrat.
You can find Gail through her agent, Kristin Nelson of Nelson Literary Agency or via her website gailcarriger.com. She has a ridiculously silly newsletter, The Monthly Chirrup and a fabulous podcast about travel, 20 Minute Delay.
Fun extra: Gail's bio as if written by Mangnall in the 1830s.
"Carriger, a comic writer from the Colonies, born in squalor, 197?; died, ?. Famous for her outrageous characters and questionable inclination to dandify. The celebrated Chubbiest of Foqoures was her cat, and, upon said cat's decease, Carriger engaged the affections of Lilliput la Pumpkinpucci. Carriger's works are numerous. She had a peculiar mind, in a top heavy body."
~ Mangnall's Questions (the update), 1830 ~ 2015