Dealer's Room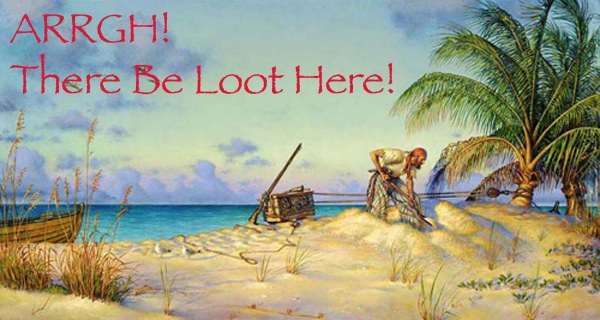 Welcome to the Dealer's Room, me matey!
Once again we will have plenty of dealers selling a vast assortment of riches and treasures for your pockets! With the Dealer's Room opening for business at 2:00 p.m. on Opening Day (Friday, May 12, 2010), we expect there to be much for all ye buckos (aka "you fans") who are eager to buy. So remember your Doubloons (aka money), and come dig up a treasure to take home with ye!
Official Dealer's List - as of March 19, 2010
Vendor
Products
Emerald's Emporium
Fairie fossils, gaming, greeting cards, Windstone, cool fantasy stuff!
Jupiter Gardens, LLC
Incense, books (young adult, romance, and nonfiction, along with our children's picture book), and artwork from Aldeberon Valley Creations
Glen Cook
Books
Mohr Creations
Hand Made jewelry, bookmarks, wall art and original webcomic books
Mystik Waboose
Fine Clothing and Accessories
Sams Dot Publishing
Personally Published Books
Stephen Zimmer, Author and Filmmaker
Books, DVDs, and other items related to Stephen Zimmer's work
Wandering Mail
Steve Todd and his Pliers of Doom
White Hawk Press
books (science fiction/fantasy, poetry, literary biography and miscellanea)
Ziggy's West
blades, books, and baubles
If you are a dealer that has paid for tables and are not on this list - immediately contact dealers@demicon.org.