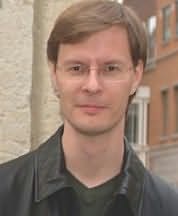 Karl Schroeder is an award-winning science fiction author whose novels present far-future speculations on topics such as nanotechnology, terraforming, augmented reality and interstellar travel, and have a deeply philosophical streak. One of his concepts, known as thalience, has gained some currency in the artificial intelligence and computer networking communities.

After publishing a dozen short stories, Schroeder published his first novel, Ventus, in 2000. He has published seven more novels and is co-author (with Cory Doctorow) of the self-help book The Complete Idiot's Guide to Writing Science Fiction. Karl's latest works involve the popular Virga series, which includes the novel Pirate Sun YARR!

Check out Karl Schroeder's official website!
Other web sites with information about Karl Schroeder: